Being a coach is much more than teaching proper volleyball techniques. See how to stay connected and show compassion to players during uncertain times.
When their playing days are over, athletes aren't going to remember the box scores or hitting percentages. They'll recognize who was there for them during the most vulnerable times of their lives. Here are a few tips for keeping team morale high from a distance.
Check in on your team
Your players' health and well-being should always be a priority, but especially in times of crisis and isolation. Set a reminder in your calendar to reach out to them. Ask how they're doing physically and mentally and let them know how important they are to you.
Avoid phrases like "you're a hard worker" or "you've been a great asset." Instead, choose affirmations that are specific to who they are and the unique impact they have on your team. "I love the way you cheer for your teammates," and "I appreciate how you always take the extra time to shag balls between drills," are great examples.
Create space for socializing
While virtual position training and at-home workouts are important, your players are probably missing the casual conversations and team time. Facilitate these by hosting coffee or tea breaks for your players to get together and talk about life outside of volleyball.
Send a care package
If your budget allows, send players something to let them know you're thinking about them. Tailor it to each individual's interests and hobbies, or keep it general with a mix of fun and useful trinkets. Items like hand sanitizer (if you can find it), masks, snacks, scrunchies and card games are all great contenders.
Or send a handwritten note to let them know you care.
"I sent each of my players a handwritten note to not only let them know that I was thinking of them, but to encourage them as they were about to head into their finals week. Each note made them feel special and they know that I care for them as more than just volleyball players," said Ruth McGolpin, head volleyball coach at Westmont College (Calif.).
Celebrate your players
Last but not least, keep everyone focused on the positive by celebrating wins at the team and individual level. Create highlights of your team's best moments or make one for each player to applaud their successes. This might sound time-consuming, but it's a breeze with Hudl's highlight tools.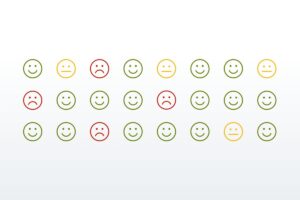 Not all celebrations are about in-game moments. You can also throw a virtual party or award night to recognize your team. If you have the budget, send pizza or another treat to your players' homes so it feels like an end-of-season banquet. Create the awards you normally would and play that highlight reel you made. Most importantly, enjoy being together and give your players a small sense of normalcy.
We're all missing being on the court right now. But rallying your players and boosting team morale can still happen. For more ways to keep your team happy, healthy and engaged, check out our Remote Coaching Guide.