The Southern Kentucky Elite Volleyball Academy is growing, and Hudl is helping every step of the way.
When Caleb Sheffield and his wife Lindsey decided to create the Southern Kentucky Elite Volleyball Academy in Bowling Green, Ky., last year, they knew they'd need a way to incorporate video and stats to legitimize their club and help their teams win. They just weren't sure what it would look like.
About one-third of the way into their inaugural season, it became abundantly clear Hudl was the solution.
Caleb, who also coaches the club's 14 Blue team, found Hudl helped with every aspect of his job — statistics, developing players, winning games, getting athletes college attention and communicating with parents.
"We probably ended up working more when we got Hudl, but in a good way," Sheffield said. "Had we not gotten Hudl, we would've invoked a different form of keeping stats and video. If we had taken a more traditional approach with a recording device and do all that stuff manually, it would have been horrendous. Hudl saved us a ton of time."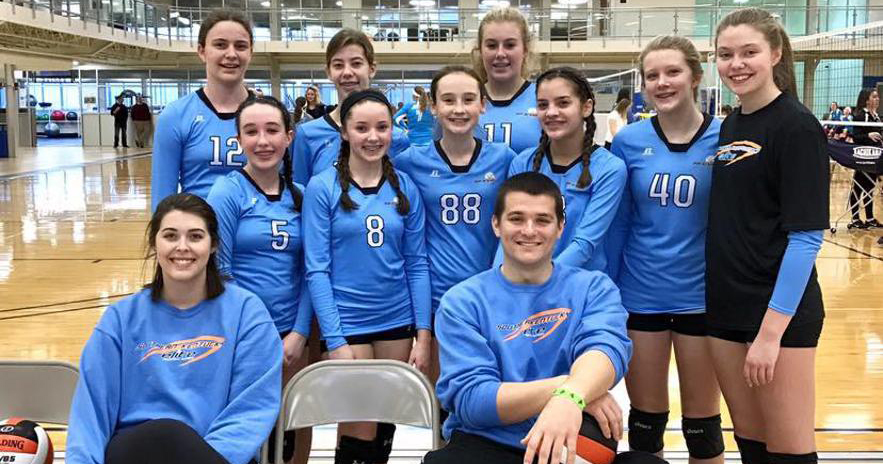 Sheffield used statistics like passer rating and the performance of certain rotations to find inefficiencies in his team's play. A self-proclaimed data geek, Sheffield found areas where his team needed some help, then watched the video associated with that statistic to find solutions.
He was pleasantly surprised to find he wasn't the only one embracing the numbers. The players looked into their own numbers linked to video for ways to improve.
"To be able to just literally click on the stat and watch the play… that was something that our kids used," Sheffield said. "If you're a hitter and you had six hitting errors in a game, you're wondering, 'What the heck am I doing wrong?' You go and you click that stat and it's going to tell you. You're going to see what you were doing in that game that was causing you to have those errors. It's huge for them to be able to learn."
The players were so taken with the video, they would grab an iPad and rewatch their performance between games at tournaments.
"They were putting two and two together from what I'm saying to them during the game," Sheffield said. "When I say something to them during the game and they don't understand it, if they go two or three days or even a day without seeing what I was talking about, they probably won't remember it. But after the game if they're confused, they can go back and see exactly what I was talking about. It really helps them to understand."
As much as Hudl helped SKEVA on the court, it was arguably just as effective off it. The new club needed a way to attract local talent, so Sheffield crafted highlight videos from SKEVA's first season and promoted them on social media as a way to get the word out. The program's first meeting this season was kicked off with a promotional video.
And while SKEVA's players aren't yet old enough to be heavily recruited, they're already drawing the eyes of college coaches. The players created highlights of their best plays, then sent them to schools they're interested in. And those schools are paying attention — Sheffield said coaches from Ball State checked in on one of the club's 13-year-olds last year because of her highlights.
"It's simple and it's easy," he said. "I don't have to know professional video-editing software to make a quick highlight video. I don't think a college coach cares if it's professional. They just need to see it."
SKEVA may just be getting off the ground, but Sheffield has high hopes for the club. It has already made a large impact in southern Kentucky, a footprint Sheffield hopes will continue to grow. As SKEVA continues its ascension, Hudl will be there to help.
"I don't have any data to give you hard facts about how it affects our numbers, but I'll say this–we were the popular club this season and coming into registrations," Sheffield said. "Our clinics were highly successful. We had an online marketing campaign through our social platforms. We made a highlight video and we put it on Facebook. We pushed it out and tried to get interest from anybody. If you're like me, you're way more likely to watch a video than read somebody's post. It was perfect."
See how Hudl can attract new talent to your club, develop your players, help your coaches win and get athletes to the next level.