If you are like most coaches you are always looking for new ways to teach the same skills. Adding variety to your practice drills can do wonders for interest and enthusiasm in practice. We all have our favorite serve receive drill. In the video clip below Coach Ron Kordes demonstrates a serve receive drill that he uses called Reverse Side Out. It's a competitive drill that emphasizes terminating in the first swing to create a side out.
Coach Kordes, Assumption (KY) High School Head Coach, is one of the most successful high school coaches in the United States. His teams have won 19 State Championships and he was named the 2012 AVCA National High School Coach of the Year.
He was also received the 2016 AVCA Club Director of the Year (KIVA).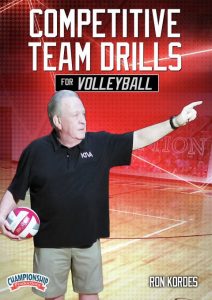 The serve receive drill that he demonstrates in the video is just one of 14 team drills that he put his team through in his instructional DVD. For more information about that DVD click the link Competitive Team Drills for Volleyball
This serve receive drill is fairly simple. The game is played 6v6. When a team wins a rally they earn the opportunity to serve receive. Teams can only score when they are serve receiving. The game begins 18-18.
The receiving team scores 1 pt if they win a regular rally. They earn 2 pts if they are able to get a kill on the first swing (This is the emphasis of this serve receive drill). They can also earn two points if the serving team misses a serve.
The YouTube video below has sound, so please make sure that you audio is on and the volume is turned up. Click the arrow to play the video. Please note that some schools block access to YouTube.
If you are interested in learning more about the DVD that this clip came from click here or click on the image above.