Developing young volleyball players requires quality reps and touches in a practice. In the video clip below Bond Shymansky, University of Iowa Head Coach (former Marquette Head Coach) demonstrates a great warm-up drill that he feels is more productive than some more traditional drills used during warm-up.
His Continuous Butterfly  warm-up drill requires each player to pass, set, and hit while they must move quickly from one task to the other without hesitation. The drill requires a high level of communication and concentration in order to execute properly. The fact that the players are getting multiple reps of passing, setting and hitting while having to communicate, concentrate and move make this a very good warm-up drill.
Coach Shymansky has put together a DVD that gives you a lot of drills that will get you players many touches, get them communicating and get them moving. In it he also delivers the when, the why, and the strategy behind each drill. For more information about Coach Shymansky's DVD click the link High Energy, High Rep Practice Drills 
The YouTube video below has sound so please make sure that your sound is turned on and that you have access to the site. Note that some schools block access to YouTube. If you are cannot view the clip and you are watching from school, please contact you network administrator.
This warm-up drill begins with one ball in each side of the net.  There are three position on each side of the the net: Setter, Hitter and Passer. The ball is hit to the passer on the opposite site of the net. The passer passes to the setter and the setter sets the back row hitter. The back row hitter hits to the opposite passer and the drill continues in this fashion. The players rotate from hitter to passer to setter to hitter.  The goal for the drill can be time (1 or 2 minutes) or a certain number of contacts in a row.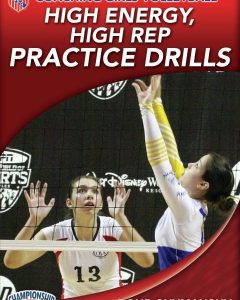 Click the link if you are interested in learning more about the DVD that Coach Shymansky has put together. It provides you with several drills that will get you players many touches, get them communicating and get them moving. In it he also delivers the when, the why, and the strategy behind each drill. For more information about Coach Shymansky's DVD click the link High Energy, High Rep Practice Drills