This article was contributed by Coach Dawn Writes
By Dawn Redd-Kelly, Head Volleyball Coach at Beloit College.
By I was listening to one of my favorite radio talk shows (1A on NPR) and they were discussing women in the tech industry and one of their guests said something that I've been saying for years, which continues to be backed up by research:
Girls are socialized to be perfect, while boys are socialized to be brave.
Those of us who work with female athletes have to acknowledge this difference.  Not doing so could put you in the group of coaches who expect drama because you work with women and who don't challenge their female athletes to be their best selves.  I get more into it in my book and when I come to speak to groups, but understanding this bit about socialization will help us to be better coaches.
How can we handle it?
If you've got drama on your team, girls are taught that they've got to be "perfect" and perfect girls don't fight…so they internalize. They form cliques.  Instead, empower them to have difficult conversations with the people involved, that's the brave thing to do.
Maybe you've got a talented player who's afraid to acknowledge they're the go-to person, that they're the best player on the team. After all, perfect girls don't lift themselves up above their teammates.  What can you do? Reframe their role as a role.  The team needs them to fill that role just like the team needs other players to fulfill their roles.
Beyond these two things (because there can be so many scenarios), constantly having these types conversations about your expectations (of how to handle conflict, of accepting your team role, etc.) are a great way to lay the foundation of your team culture.
Dismantling years of ingrained socialization won't happen overnight, but if the coaching staff is committed to their player development in this area, eventually you can move the dial.  And once our players are comfortable taking risks and being brave with their teammates, I believe their athletic performance will follow!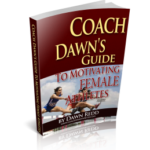 Are you tired of walking into practice and seeing lackluster effort from your players?  Have you had it with trying to get your female athletes to care about the team as much as you do??
Click here to find out more about Coach Dawn's eBook: Motivating Female Athletes
Comes with a FREE PowerPoint presentation called Guarantee Your Success: Using John Wooden's Pyramid of Success To Increase Your Team's Cohesion.