---
In today's post Ball State University's Joel Walton tackles the frustrating skill of blocking .In the clip below Coach Walton demonstrates a blocking drill that he calls Attacks vs Blocks. This drill provides an opportunity for you to see if your players are setting the block correctly, if they are stopping or flying through the block, and if they are taking away the correct shot, or reading correctly.
This competitive blocking drill is a natural progression from a simple swing blocking drill that Coach Walton shared in a previous post. You can access that drill by clicking the link Swing Blocking Drill
The drill begins with a coach entering a ball to the offense. The six offensive players are playing against only three blockers. The offense's goal is give the setter the best ball possible so that he/she has all options available. The setter may set the either pin, the middle or the back you.
The scoring for the drill is follows. The defense scores a point if they get a stuff block, deflection block or force and error. The offense scores if the hit an attacking ball that would have been a kill.  The game is normally played to 11 or 15 points.
The swing blocking drill  and the Attacks vs Blocks drill are both from his his DVD dedicated to blocking. The dvd includes instruction on how to stop opponents from hitting the ball into the vulnerable parts of your defense and the proper mechanics of swing blocking. In addition, he covers strategies to prevent balls from going through the block and eliminate "cheap" points. He also includes a section on how to plan your blocking based on your opponents tendencies.
For more information about that DVD click the link Individual and Team Blocking Skills and Strategies.
The YouTube video below has sound, so please make sure that your sound is turned on and that you have access to the site. Some schools block access to YouTube.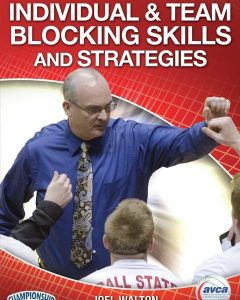 This clip is just one drill from the dvd on the left. If you would like more information about the dvd, simply click on the the link  Individual and Team Blocking Skills and Strategies