High school coaches know that the success of their volleyball program depends on several items. One of those things is developing players at a young age. This is the time of year that many of you may be running camps for youngsters. In the two video clips below you will see a handful of youth volleyball drills that you might find useful in you summer camp or youth program. These drills are designed for the young and/or beginning player. They are very basic and simple drills that help the beginner learn the basic components to key volleyball skills.
You may or may not find them useful, but at the very least they may give you some ideas about how to better construct some of your youth volleyball drills.
The first video details an eight drill sequence designed to teach a young player how to pass the ball. The second video shows three similar attacking drills using different types of balls (nerf, whiffle and tennis)
The youth volleyball drills in these clip are conducted by John Sample, Creator of VolleyTotz, President of Texas Advantage Volleyball,Junior Volleyball Association (JVA) Board of Directors. VolleyTotz is a dynamic, fun filled program for kids ages 3-8 that teaches athletic skills with a focus on youth volleyball drills.
Coach Sample has a DVD the detail how to run a VolleyTotz program. For more information about that DVD click the link VolleyTotz! How to Run a Successful Youth Volleyball Program
The Youtube videos below have sound, so please make sure that your sound is turned on and that you have access to the site. Some schools block access to YouTube. If you are watching from school and having difficulty seeing the viewing the clip, please contact your network administrator
Passing Drills
Attacking Drills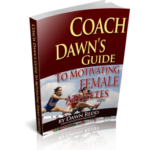 Are you tired of walking into practice and seeing lackluster effort from your players?  Have you had it with trying to get your female athletes to care about the team as much as you do?? Check out this ebook by Dawn-Redd-Kelly, Head Volleyball Coach at Beloit College
Click here to find out more about Coach Dawn's eBook: Motivating Female Athletes
Comes with a FREE PowerPoint presentation called Guarantee Your Success: Using John Wooden's Pyramid of Success To Increase Your Team's Cohesion.