If you are shopping for Christmas gifts, Holiday gifts, birthday gifts, or end of seasons gifts for your volleyball Coach, we got you covered with these suggestions.
For the more expensive gifts, these are best presented by the team or booster club pooling money to get a super nice gift and save the kids and individual volleyball families time in shopping.
We got all the gifts located on their Amazon platform as we know that can make things easier for you as most already have an account set up.   Pricing is subject to change so please check pricing in cart before buying.  We recommend these products on either the actual previous use or the desire to purchase at some point and the process of online review.   We may be paid an affiliate commission by Amazon for your purchase of these items… at no extra charge to you.   This helps support our efforts and the time we invested into making your shopping easier.  Happy Shopping!
The Hoodie that says it all… classic for the Coach you care about.
Awesome light for the school office or the Coach's home… this light definitely makes a volleyball first statement in decor.
These gifts can bring a tear to a Coach's eyes as the family comes together to sign this wonderful plaque that the Coach can remember this specific team forever with.
For those days your Coach can't remember exactly what their job title is… this should help when they look in the mirror.
Volleyball Photo Frame | Coach (Autograph) Picture Frame | Black
Another frame memento for the team to sign and gift their volleyball coach.
Volleyball Coach's deserve a little respect and this shirt embraces just that.
Gift your volleyball Coach this great tote bag that is perfect for the beach, picnics or tournaments.
Christmas Pillows Holiday Xmas Gifts Volleyball
Looking for a Christmas gift for your volleyball Coach?   This pillow can help capture their passion for the game and their passion for the game too!
This shirt warns people about what they are up against… in a fun way that empowers your Coach.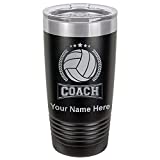 If you have the time for this personalization process this tumbler mug can start your Coach's day off right with their coffee.

For the "best" volleyball coach.  Apparently they only made one mug for the "best.'   And yet there are supplies available!  You can get them for your assistants and write "Second" in front of best with a white sharpie.  🙂

As mentioned before… there is no higher title a coach would prefer to be called.  Not your Majesty, not your Honor, not Boss.  For some, the exception might be Mom or Dad.   Get this ordered and also have the team sign.   Beautiful gift from the heart for a shelf in the office!

Hand Squeeze Whistle. This handheld whistle is loud, easy to use and allows coaches to coach verbally while still managing a scrimmage or running a drill.  It is also more pandemic friendly as you can wear a mask with it and also are not dealing with whistle drool etc.   I personally use it in camps, training and refereeing scrimmages like our Real Run program.

I have found these JBL portable speakers to be top quality and have a good bass end.   I recently ran over their JBL Extreme speaker with my Honda while we prepared for an outdoor bodyweight strength for volleyball  bootcamp.  The Extreme series seems to be discontinued, but this looks like most comparable as gift .  These are awesome to bring to practice or on the team bus.  Great for lunch outside during the tournament or in the volleyball weight room.

Coaches watch a lot of video and a big screen TV can help them pick up things on the volleyball scouting duties a laptop will not.   This would go great on the wall in their office or if they have life outside of volleyball in their own home.  She will appreciate this gift that helps her help her team.   This Smart TV has Alexa built in and many next gen apps available to it all for a low price and a reliable brand.
Managing time is often the most challenging aspect of a volleyball coach's job.  This watch helps me to receive texts from late or sick players without checking my phone during practice.  It allows me to not carry a stopwatch so I can time players.  The vibrate feature allows me to set a timer to keep me focused on the task and the agenda. It allows me to dictate a note for future consideration during a practice without running to a notebook.   The truth is many volleyball coaches consider this an expensive luxury item for their kids… but not themselves.   Coaches can really make their practices more productive and less stressful with this watch and I love mine.
Hamilton Beach Dual Breakfast Sandwich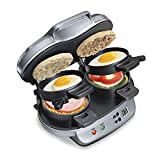 Imagine how great a mood your coach will arrive to morning practice after he has had a great simple breakfast sandwich made painless with this awesome contraption.
Help your coach relax and unwind after your team has 30 plus turnovers and you see their blood pressure rise on the sidelines.   This smokeless fireplace is portable and looks sharp and will allow your coach to sit down with their favorite beverage and just chill as they watch the flames dance.  Also can be a nice way to help Coach connect with their family in a circle.   Innovative twist on a time honored classic.
This is a great luxury item that a coach is unlikely to splurge on themselves.   They can use it for their family or for their team, or perhaps for the girls night out (yes female coaches like a Yeti too.)