This article and other helpful coaching tools can be found at Coach Dawn Writes
By Dawn Redd-Kelly, Head Volleyball Coach at Beloit College.
A few years ago, I spoke at the USA Hockey ADM (American Development Model) coaches clinic and gave my Motivating Female Athletes presentation.  Over time, the presentation has evolved and I always manage to tailor each talk to the particular group I'm speaking with, but the bones are pretty much the same.
This first section (which is about fourteen minutes) is a place I've been doing lots of research lately.  It talks about the socialization of females and begins the conversation about building team chemistry.
I hope you like it and let me know if you'd like to have me speak to your group!  You can check out different topics here.
Below is a link to an eBook that Coach Dawn Redd-Kelly has written regarding Motivating Female Athletes.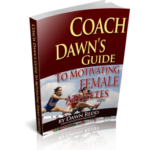 Are you tired of walking into practice and seeing lackluster effort from your players?  Have you had it with trying to get your female athletes to care about the team as much as you do??
Click here to find out more about Coach Dawn's eBook: Motivating Female Athletes
Comes with a FREE PowerPoint presentation called Guarantee Your Success: Using John Wooden's Pyramid of Success To Increase Your Team's Cohesion.