By Lindsay Peterson
If your team knows how to serve spe­cif­ic zones, you'll be ready to rule the court.
Karch Kiraly said it best, ​"The serve is the only tech­nique that is total­ly under your control." 
It's real­ly all in your hands. If you can con­trol your serves, then you can con­trol the oth­er side of the court. And in high school vol­ley­ball, if you're a strong serv­ing team, you're going to be tough to beat. 
Here's how to get there.
The Competitive Advantage
If your play­ers can serve dif­fer­ent zones, you have a bet­ter chance of find­ing your oppo­nents' weak­ness­es. Once you iden­ti­fy where that is, you'll be able to go after it aggres­sive­ly and make your oppo­nent much eas­i­er to defend. 
It's extreme­ly impor­tant to call spe­cif­ic zones dur­ing a serve. Not doing this is like not telling a quar­ter­back what play he needs to run on the foot­ball field. And it goes hand in hand with scout­ing your opponents.
Go through each of their rota­tions to find their pass­ing ten­den­cies. Use your find­ings to attack spe­cif­ic passers or zones where your oppo­nents struggle. 
We use two types of zone serv­ing, depend­ing on the age of our athletes.
Standard 1 – 6 Zones
This is a basic zone serv­ing strat­e­gy. It's eas­i­ly under­stand­able and fol­lows rota­tions so it's easy to remem­ber, regard­less of age or skill.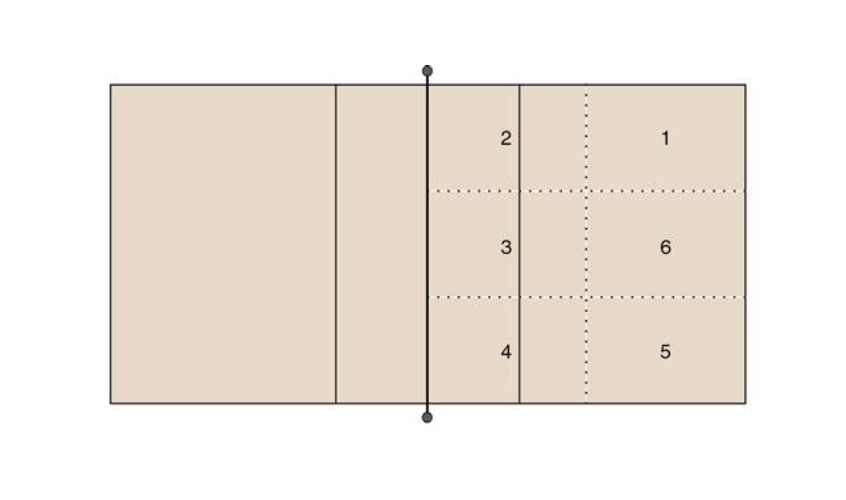 Zone 1: right back
Zone 2: right front
Zone 3: mid­dle front
Zone 4: left front
Zone 5: left back
Zone 6: mid­dle back
Specific Zones
This type of serv­ing takes a lot of prac­tice to learn, so we reserve it for old­er, more advanced play­ers. It's divid­ed between deep and short serves.
Deep serves
Zone 1: Sideline clos­est to right back
Zone 2: Player that's serve receiv­ing in right back 
Zone 3: Between play­ers in right back and mid­dle back
Zone 4: Player that's serve receiv­ing in mid­dle back
Zone 5: Between play­ers in mid­dle back and left back
Zone 6: Player that's serve receiv­ing in left back 
Zone 7: Sideline clos­est to left back
Short serves
A: Right front
B: Middle front
C: Left front 

How to Apply It
Serving zones allows for tons of dif­fer­ent strate­gies. For instance, we keep the ball short when our opponent's attack­ers are run­ning across the net in serve receive. In the­o­ry, this will clog up the mid­dle of the court and will some­times pre­vent a team from run­ning their mid­dle attack­er. For oppo­nents who have a great mid­dle attack­er, throw­ing in short serves is important. 
Another strat­e­gy is to find the out­side attack­er that's step­ping back into serve receive. Move her around. Serve her short and deep. Start track­ing her ten­den­cies to see if she pass­es bet­ter out of one spe­cif­ic rota­tion than anoth­er. If you keep pres­sure on your oppo­nents' out­side attack­ers, they'll often become tired and less effective. 
We also look for rota­tions where there are stacks of play­ers lined up on one side of the court, and try to serve on or over those stacks. This can cause com­mu­ni­ca­tion errors between the front and back row. It also makes it tough for the pass­er that's behind the stack to track the serve.
Practice Makes Perfect
This skill needs to be touched on in every prac­tice. Some days we work on hit­ting zones, some days we focus on serv­ing under pres­sure, and some days we con­cen­trate on mak­ing our ser­vice bet­ter (faster, more aggres­sive, or more controlled). 
Serving style is impor­tant too — decide what works best for your team. Most of my kids serve float balls because it's hard­er to read as a pass­er, and you can con­trol the serve well. Once in a while, you might get an ath­lete who can serve a top­spin ball well. It's impor­tant to eval­u­ate this serve and decide whether or not you think the play­er is able to con­trol it and can still put the ball in the zone you're call­ing. If it works for your team, and your play­er is com­fort­able with it, go for it!
What if your play­ers are miss­ing serves? It might not be as seri­ous as you think. We're will­ing to miss serves deep if we're play­ing a team with a lot of ball con­trol. If we serve aggres­sive­ly, we can hope to put them out of sys­tem and make them eas­i­er to defend. 
But you don't want to let it go too far. We set a goal for how many missed serves are allowed. It varies based on who we're play­ing and how aggres­sive we need to serve, but in gen­er­al, it's two missed serves a set.
Even if your play­ers don't hit the zone 100% of the time, if they can do it the major­i­ty of the time, the results will speak for themselves.
Lind­say Peter­son has been a var­si­ty head coach for eight years. She played for the Uni­ver­si­ty of North Alaba­ma, help­ing them win the DII Nation­al Cham­pi­onship in 2003. Peter­son has led her Mil­lard North High School team to the state cham­pi­onship tour­na­ment sev­en times, win­ning in 2016 and 2018. She was named one of the top 40 coach­es in the coun­try by the AVCA, and Coach of the Year by the Oma­ha World-Herald.
Peterson wrote this arti­cle with the help of her assis­tant coach, Lindsay Grant. Grant has coached at Millard North High school for eight years, and is also a club coach for Nebraska Juniors.