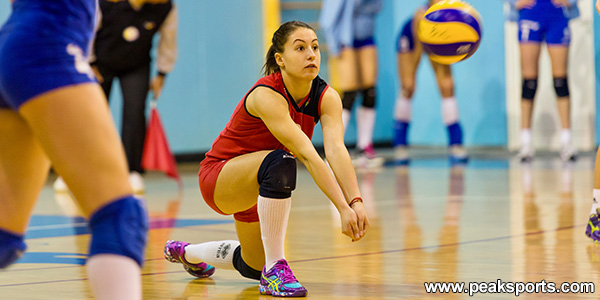 This article is republished with permission. The original article appears at How to Prepare for Pressure in Volleyball.
Using Visualization to Overcome Pressures in Games
How well do you perform during a volleyball match when the game is on the line?
Are you able to focus when under pressure or does your performance fall off dramatically?
Have you ever watched in awe of how elite players are able to rise to the occasion and play their "A" game when pressure mounts?
Many volleyball players choke under pressure because they are unprepared mentally for pressure.
For sure, some volleyball players are more nervous than other players, but nerves are a part of the game for every player.
It's true… EVERY volleyball player experiences some degree of nerves during critical moments of a match.
Being down 2-0 generates nerves fora EVERY volleyball player…
Serving for the match increases a sense of nerves for EVERY volleyball player.
Facing a powerful team makes EVERY volleyball player a bit more nervous.
The difference is that elite volleyball players have learned to harness those nerves so they don't become overwhelmed by the moment and are able to focus and play at their peak.
You learn to harness nerves by training your mind to do so.
There are two ways to train your mind to harness nerves:
1. Create pressure in practice – It is impossible to rise to the occasion if you are not experienced enough to manage those situations. The more you recreate pressure situations in practice, the more prepared you will be to handle those situations in games.
2. Use visualization – Visualization is a strategy where you create vivid images of competitive scenarios, using all your senses to add to the imaged experience and see yourself being successful in those scenarios.
The more you engage in visualization, the more you develop that mental skill and increase your mental toughness.
Visualization is a highly effective method to prepare yourself to rise to the occasion when the pressure is on.
Handling pressure is exactly how the University of Nebraska Women's volleyball team advanced to the NCAA championship game.
Nebraska was trailing the University of Illinois 0-2 and was on the brink of elimination.
Instead of folding, Nebraska relied on its training, maintained a laser-like focus and fought back to win the next 3 sets, 25-23, 25-20 and 15-1.
Nebraska's comeback afforded them the opportunity to defend their NCAA title from the previous year.
Nebraska sophomore Lauren Stivrins credits the team's training for their success playing under pressure.
STIVRINS: "We have high-stress and high-pressure drills every day. I think those drills help us come out on top and be cool in those big moments. With Nebraska volleyball, coming here, you have to have that mindset. You have to be able to face anyone at any time."
Nebraska was able to perform under pressure because they practice playing under pressure.
Practicing under pressure trains your mind to stay poised and focused under pressure.
Tip for Playing Your "A" Game Under Pressure:
Visualize pressure moments.
Take 10 minutes a day to visualize playing successfully in your position.
If you have never visualized, write out a script describing the pressure situation and how you want to play in that scenario.
Being mentally prepared for pressure moments will take that edge off and help you focus when you need a win.
______________________________________________________________________________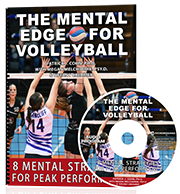 Your volleyball mental game experts Dr. Patrick Cohn and
Dr. Megan Melchiorre want to share powerful mental strategies
to help you (or your team) perform your best in practice and more consistently
at your peak in volleyball games…